Satisfied Customers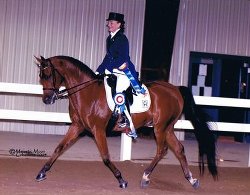 Noble says thanks for the massage. He went top five in side-saddle & reserve champion in sport horse show hack! Thanks for YOUR contribution.
Myra
With heartfelt gratitude: Thank you Bobbi, for opening my heart to horses in a whole new way, and thank you for modeling your loving touch for Screech Owl campers.
Cecelia
Carmen
I watched from my booth at the show as National Champion Carmen Miranda "blew a tire" in a high-rolling hunt sweepstakes class. I spent three hours the next morning loosening knots, calming spasms, soothing show pressures and tension, and reviving her. Proving she has what it takes, Carmen came out of her evening class with the championship.
Aramis
Fibriotic miopathy was surgically removed from Aramis' "hamstring". Cortisone shots were recommended post surgery. The owner had sworn no more cortisone would enter her horse's body. She called me. Nine lessons later, the Vet returned to follow-up and commented that the cortisone had worked ... no sign of scarring/adhesions, no muscle shortening, no "hitches" in Aramis' gait. The owner informed me the massage had done that.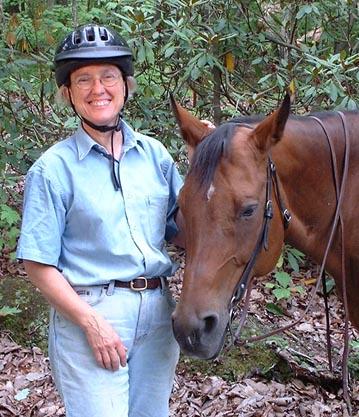 Thanks, Bobbi!
Yesterday when I played "chase" with Maggie in the pen, Dolly was running OK and bucking around just like she used to, too. But it's wonderful that she feels this good and is participating in life again! Thank you, thank you, thank you!
Beth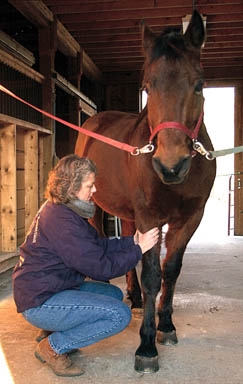 Had to write and tell you what happened yesterday. Brandywine choked(is there ever a peaceful weekend). I called the vet who told me to try and massage his throat and work out whatever was stuck. So I put him in the aisle. Couldn't feel anything in his throat but massaged it then did his whole body. I think it calmed him down so much that whatever was there passed. Let me tell you watching him cough and spit out liquid and be scared at what was happening to him was not fun. The massage did the trick. If it hadn't been for all your teaching about it, I wouldn't have done it. So thanks. Next time it will be the first thing I think to do.
Debbie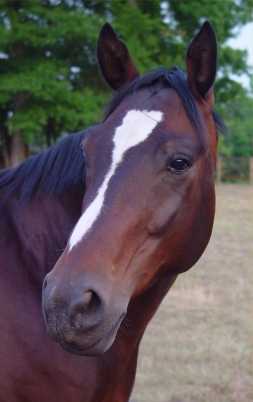 Hi - he was super at Lochill today! Very flexible and attentive, moving off the leg - I even did a tiny piaffe, he was so collected! He passed the dressage test thanks to your good work! Beautiful upright canters.
Love from Desi and Cindy!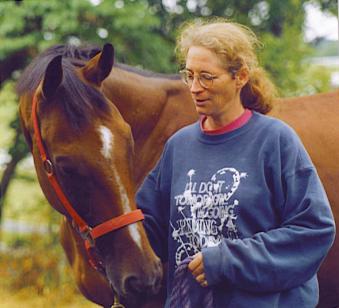 Thank you, Bobbi for a great weekend. The Massage Class was a success! Seeing Beckley come and work with his horse Samson was the highlight of the day!
Thanks again,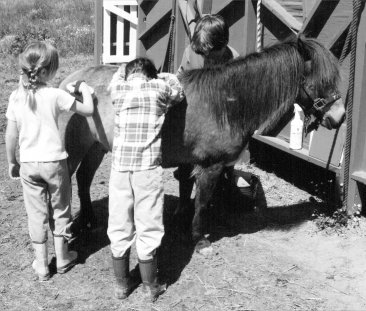 Bobbi has an extraordinary way with animals. My horses breathe a deep sigh of relief when she puts her hands on them. Thank you for leading my campers at Blue Skies Barn into some beginning massage movements for the horses. Ginger and her stablemates benefit and the campers learn how important our gesture and touch are to these beautiful animals.
Deborah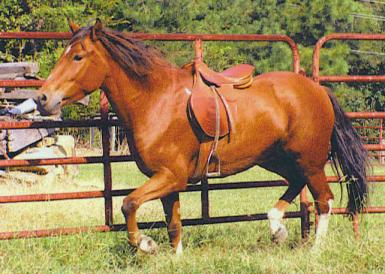 Thank you for teaching me how to trust.
Gunner - Thousand Welcomes Farm
Gallery